Posts: 2012
Joined: Wed Feb 17, 2010 2:03 pm
Location: Old Virginny
Tue Dec 27, 2011 4:05 pm
I'm pleased to announce the publication of my new book in the first week of January. The topic was inspired by my own adventures in playing - or attempting to play - the piano in later life. The tone is light-hearted and chatty, but there's a lot of practical information on how anybody can achieve of modicum of success in learning to become a pianist.
This modest volume contains my various discoveries and observations on learning the piano in later life. Largely self-taught and with no special aptitude for music, I was motivated by my love of piano music and a sincere desire to play a number of works that I admired. I found some simple short cuts to master my favorite works of music, including the "secret" to learning new pieces easily, and how to develop confidence in teaching myself to become a pianist.
Your ultimate goal is to become an independent pianist, not tethered to exercise books or grade level-type of instruction books. You play what you like and like what you play. Best of all, your mind will thank you for it. At any rate, these are the factors that inspired me to write MEMOIRS OF A SECRET PIANIST: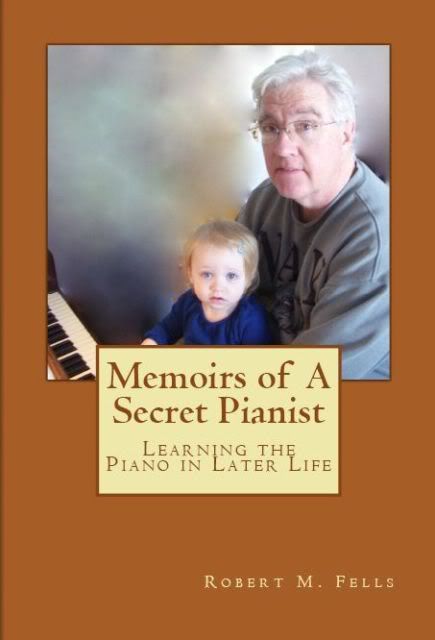 The book will be available on Amazon.com (both paperback and Kindle edition) and there's a good chance that Barnes & Noble will also pick it up since they are now selling some of my other books.