Hello Fellow Silent Fans!
Here's a new DVD release from
http://www.reelclassicdvd.com
that's been a long time in the making!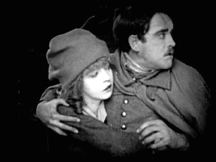 D. W. GRIFFITH'S
HEARTS OF THE WORLD (1918)
HEARTS OF THE WORLD
starring Lillian Gish, Robert Harron, Dorothy Gish, Josephine Crowell, Kate Bruce and Ben Alexander. Directed by D.W. Griffith, photographed by G.W. Bitzer.
Griffith's third great feature following BIRTH OF A NATION and INTOLERANCE, HEARTS OF THE WORLD is the story of a boy, a girl and their families as they are thrust into the horror and violence of the Great War. Masterfully directed and photographed, Griffith again works his magic in presenting scenes of war on a grand scale, balanced by gentle scenes of innocence, humor and family life. Wonderfully acted by stars Lillian Gish, Bobby Harron and the Griffith stock company with truly evil portrayals by George Siegmann and a young Erich von Stroheim. Look for Noel Coward in his very first screen appearance!
Complete and running a full 122 minutes, this is definitely not the poor quality, jumpy, step-printed version commonly available elsewhere. This is a brand-new digital transfer from a lovely print that derives from Griffith's own materials as released by Essex Films.
Presented with a wonderful new score by Ben Model, HEARTS OF THE WORLD is a great and neglected masterpiece!
Get it here:
https://www.createspace.com/850068600